27 Sep 2020
Thoughts on Dune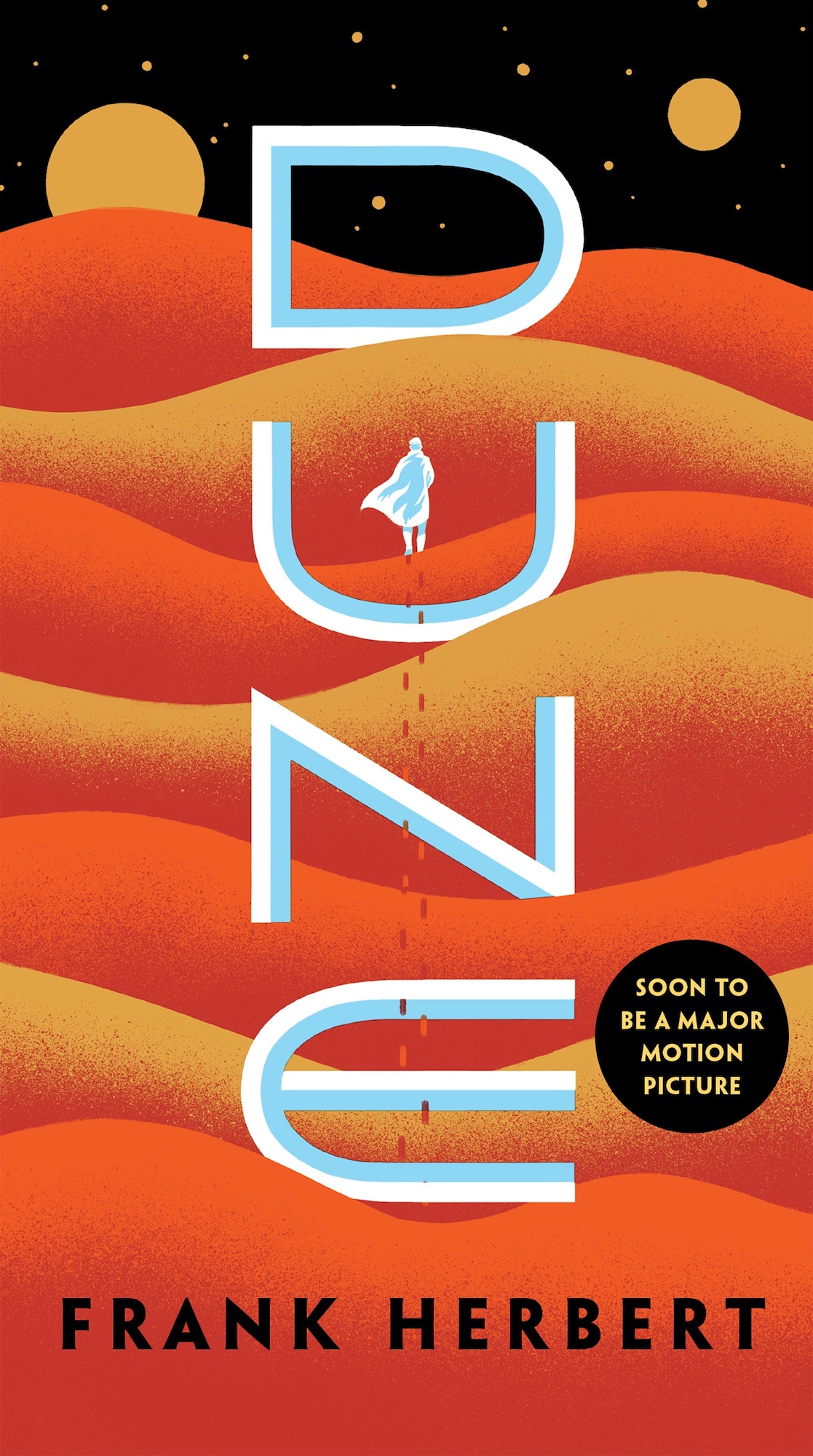 I first read Frank Herbert's Dune in early high school (on the temperate Orcas Island, quite the opposite of Arrakis!), and while I loved the story I was a bit too young to appreciate all of its nuances. So I'd always intended to reread it, and when I first heard that Denis Villeneuve was making it into a film, I resolved to do so prior to its December 2020 release. I finally dove in upon seeing the film's excellent trailer, and finished in September with plenty of time to spare… only for the film's release to get pushed out to October 2021 due to the pandemic. D'oh!
Well, at least I'll have time to read the next five novels before the film finally comes out. Just kidding; I probably won't do that. But I did really enjoy rereading this one.
Some thoughts (🐉 Spoiler Warning!! 🐉):
I now better appreciate Paul's Messiah arc, how his ascendancy distances him from his mother Jessica, and how it transforms him from an earnest, dutiful youth into a reserved, calculating adult. Paul ends up carrying with him millions of lives previously lived, and seeing myriad future paths that he must navigate between. He experiences an inexorable gravitational pull into a dark future that he strains against, yet seems powerless to avoid. He shoulders a tremendous burden. Who Paul becomes by the end of the novel didn't match my teenage self's expectations: that our earnest hero would gain incredible powers, but retain the same innocent identity he embodies in the beginning. The cognitive dissonance I felt as a kid — between who I expected Paul to be and who he'd actually become — makes much more sense now.
I didn't get that there was a war between Humans and AI's (the Butlerian Jihad) in my first reading, that the AI's lost, and that computers have been banned. Instead of computers, we now have highly specialized, elite humans whose abilities are elevated by psychoactive drugs, carefully planned breeding, and all sorts of tricks that don't leverage silicon and 1's and 0's. This is especially interesting to read today, when both science fiction and the tech industry are increasingly enamored with AI. It is also interesting to me that it is never explained just how computers have been fully eradicated. The universe is vast and infinite — are there really no computers? Dune is a world of plans within plans within plans, and feints within feints within feints. Surely someone has has secreted some computers away and wields them to their advantage? We never see hints of this, though, and the extinction of the computer is taken as absolute. (Which stands in interesting contrast to atomic weaponry — banned, but still stockpiled by the Great Houses.)
It was interesting to reread this with an eye towards Politics as a tool/technology, especially as deployed by the Bene Gesserit.
The ending felt strangely abrupt: Jessica all but disappears, which I found jarring considering how prominent and compelling she was in Part 1. Paul's ascendancy to the throne almost ends up feeling like an afterthought, and his knife fight with Feyd Rautha like something Herbert put in out of obligation (climax: check!) rather than authentic storytelling. Why does it really even need to happen? We don't get resolution to the open questions of the Jihad, what it means for Paul to become Emperor, and for galactic power structure to be upended when the Space Guild is cut off at the knees. I guess this really isn't an ending to the story of Dune, though. It's just where this first book happens to end. So perhaps I should just be grateful it's conclusive enough that I don't feel I have to read the next one.
I enjoyed the world building and thrill of discovery just as much this time around. That first moment when we discover one can ride a Sandworm… I can't wait to see that in the film!
I now have a better appreciation for what melange is; as Jon Michaud aptly put it in the article Dune Endures for The New Yorker: "Imagine a substance with the combined worldwide value of cocaine and petroleum and you will have some idea of the power of melange." Woah.
I was worried that rereading this book in 2020 would leave me cringing at antiquated sensibilities reflecting the period it was published in. I wouldn't have faulted the book for it, but I wouldn't have enjoyed it. Thankfully, I was pleasantly surprised that this was not the case; Herbert is pretty progressive in this respect relative to other science fiction from the time.
Jessica is a very authentic character and the one I most identify with. It's too bad that her presence diminishes as Paul's powers grow, although this does serve to enhance the sense of the isolation he experiences, and the magnitude of the burdens he shoulders.
Having just read and seen way more stuff heading into this rereading, it's fascinating to revisit Dune and see how many future works it must have influenced: Star Wars (Tatooine is a desert planet; there is also an evil emperor; the Jedi <> Bene Gesserit are similar mystic organizations…), Game of Thrones (I am curious if GRRM was directly or only indirectly influenced by Herbert, but the political chess that is played in Dune seems like it must have had at least some influence….) , The Incal (I intend to watch Jodorowsky's Dune for more of the backstory here), Miyazaki's Nausicaä of the Valley of the Wind (the ecological aspects of Dune feature prominently)…
I was surprised how rapidly the third-person omniscience switches between characters (often times across adjacent sentences!), but it worked well, since so much of the story is dedicated to characters outthinking each other and it is fun to get such a tight feedback loop.
It is cool how Dune sits at the intersection of science fiction, fantasy, the classics, and just timeless myth; in that sense it's actually fairly genreless.
The spice must flow! Spiced drinks while reading this book are highly recommended!