06 Feb 2021
How Will You Measure Your Life?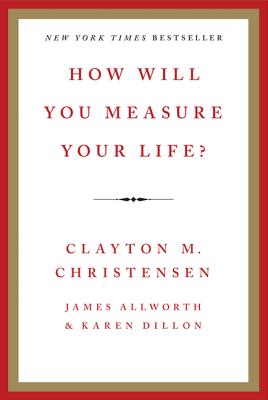 In How Will You Measure Your Life, Clayton Christensen begins by observing how despite tremendous professional accomplishments, many of his peers were clearly unhappy in life. Their unhappiness included personal dissatisfaction, family failure, professional struggles, and even criminal behavior. And yet each of them had started out as good people who somehow let forces and decisions derail them along the way.
Knowing that we are all vulnerable to these forces, he set forth to apply business theory (statements of what causes things to happen–and why) to the individual. Instead of using businesses as the case studies, he suggests we use ourselves. In doing so, Christensen provides frameworks for each of us to answer:
How Can I Be Sure That:

I will be successful and happy in my career?

My relationships with my spouse, my children, and my extended family and close friends become an enduring source of happiness?

I live a life of integrity—and stay out of jail?
He notes that while these are simple questions, answering them is very hard work and part of a continuous, ongoing journey through life. He hopes that at the end of that journey, the theories in his book will help you definitively answer the question: "How will you measure your life"?
The book is fairly short and very worth reading in full. Doing so provided me with the time to really internalize the material and to start actually applying it to my own life.
At the same time, I find myself wanting a distilled version that I can reference from time to time, in order to correct my own course as I chart it through the "seas of life". If I had to compress the entire book down into a recipe, it would be:
Figure out the things that actually make you happy
Be open to unexpected opportunities until you land on a career that lets you realize those things
Always monitor where your time and energy is going, to ensure what you're actually doing is what you intend to do
Always be investing in your relationships
Clearly establish your personal moral code and never make exceptions to it
But there is so much good stuff behind each of these, that I think a more detailed outline of notes is the sweet spot for a proper reference manual. Here it is.
The Power of Theory
There are no easy answers to how to find happiness and meaning in life.
The book instead provides tools (the theories) to help you make good choices appropriate to the circumstances of your own life.
Instead of telling you what to think, it will teach you how to think.
Good theory is a general statement of what causes what, and why. It is universal, and not only true in certain circumstances.
This means it can help us predict:

People often think that the best way to predict the future is by collecting as much data as possible before making a decision. But this is like driving a car looking only at the rearview mirror—because data is only available about the past. Indeed, while experiences and information can be good teachers, there are many times in life where we simply cannot afford to learn on the job. You don't want to have to go through multiple marriages to learn how to be a good spouse. Or wait until your last child has grown to master parenthood. This is why theory can be so valuable: it can explain what will happen, even before you experience it.

Being able to predict means we can use the theories to help steer us to good decisions and build the lives we want to live.
Part I: Finding Happiness in Your Career
The only way to be truly satisfied is to do what you believe is great work. And the only way to do great work is to love what you do. If you haven't found it yet, keep looking. Don't settle. As with all matters of the heart, you'll know when you find it. – Steve Jobs
We should strive to reach a point where we wake up every morning loving what we do.
We need to build a strategy to achieve this.
A strategy is what you want to achieve and how you will get there.

Three things build our strategy: priorities, balancing plans with opportunities, and allocating our resources.

Priorities

Our priorities need to be set according to what will make us happy.
To do so, we need to fundamentally understand what motivates us.
Incentive theory says that to get people to do something, you just need to pay them to do it.
This theory is flawed, because it can't explain powerful anomalies, such as highly happy and motivated individuals doing amazing work at nonprofits for little to no pay.
What truly motivates people, then, if not money?
Motivation theory says that incentives are not the same as motivation.
True motiviation is people doing something because they want to do it.
Satisfaction and dissatisfaction are separate, independent measures. This is why it is possible to love and hate your job at the same time.
Hygiene factors are elements that will cause us to be dissatisifed: compensation, job security, work conditions, company policies…

Compensation is a hygiene factor, not a motivator.
At best, improving hygiene factors just means you won't hate your job. It does not mean you will love it.

Motivators are what will truly, deeply satisfy us and cause us to love our jobs.

Doing work that is truly meaningful to us, is interesting and challenging, allows us to grow personally and professionally, and that provides opportunities for increased responsibility.

Most of Christensen's peers who found themselves unfulfilled in their careers had chosen them using hygiene factors as the primary criteria; income was often the most important of these.
Rationalizing that you'll take a job for compensation now so that you can pursue a job you'll actually love later rarely works. Lifestyle inflation and losing track of the dreams you had in the first place make it really hard to wind it back and correct course.
Aside: If done well, being a manager is one of the noblest professions of all, because you have the opportunity to frame each person's work such that their life is filled with motivators.
Once you get the motivators right, the more measurable incentive factors will fade in importance (but will also naturally fall into place).

Balancing Plans with Opportunities

Knowing our priorities is only half the battle.
We then have to actually find a career that both motivates us and satisfies the hygiene factors.
We have to balance the pursuit of our aspirations and goals with taking advantage of unanticipated opportunities.
Options for your strategy spring from two very different sources.

The first source is anticipated opportunities: the opportunities you can see and choose to pursue. Pursuing these is your deliberate strategy.
The second source is unanticipated options: a mix of problems and oppportunities that arise as you are executing your deliberate strategy.

These unanticipated options then fight with your deliberate strategy for resources.
The new strategy that forms from these unanticipated options is your emergent strategy.
Over time, your emergent strategy becomes your deliberate strategy, and the cycle repeats, constantly evolving.
We are constantly navigating a path by deciding between our deliberate strategies and the unanticipated alternatives that emerge.
Understanding this will help you sort through the choices that your career will constantly present.
Which you choose depends upon where you are in your journey:

If you have found an outlet in your career that provides both the requisite hygiene factors and motivators, then a deliberate approach makes sense. Rather than worrying about adjusting to unexpected opportunities, your frame of mind should be focused on how to best achieve the goals you have deliberately set.
If you haven't found a career that does this for you, then you need to be emergent. Experiment in life. As you learn from each experience, adjust. Then iterate quickly. Keep going through this process until your strategy begins to click.

What's important is to get out there and try stuff until you learn where your talents, interests, and priorities begin to pay off. When you find out what really works for you, then it's time to flip from an emergent strategy to a deliberate one.

It's easy to say to be open to opportunities as they emerge; it's much harder to know which to actually pursue.
A tool that can help is to ask: "What has to prove true for this to work?".

What assumptions must prove true in order for me to succeed? Are they in my control?
What assumptions must prove true for me to be happy if I go for it?
Then swiftly and inexpensively test if these assumptions are valid.

Allocating Resources

You're aspirations and intentions don't mean anything until you align them with where you actually expend your time, money, and energy.
If your resources aren't supporting the strategy you've decided upon, then you're not implementing that strategy at all.
How you allocate your resources can make your life turn out to be exactly as you hope or very different from what you intended.

How do you make sure that you're implementing the strategy you truly want to implement? Watch where your resources flow—the resource allocation process. If it is not supporting the strategy you've decided upon, you run the risk of a serious problem. You might think you are a charitable person, but how often do you really give your time or money to a cause or an organization that you care about? If your family matters most to you, when you think about all the choices you've made with your time in a week, does your family seem to come out on top? Because if the decisions you make about where you invest your blood, sweat, and tears are not consistent with the person you aspire to be, you'll never become that person.
Part 2: Finding Happiness in Your Relationships

There is much more to life than your career.

Work can bring you a sense of fulfillment–but it pales in comparison to the enduring happiness you can find in the intimate relationships that you cultivate with your family and close friends.

They are worth fighting for.

Techniques for nourishing these relationships:

Give them consistent attention and care.
This is surprisingly difficult to properly invest in, because:

You'll be routinely tempted to invest your resources in other things (like your career) that provide a more immediate payoff, and
Your family and friends rarely shout the loudest to demand your attention.

So you have to always be investing in your relationships.
Think from the perspective of the other person: what do they need from you? What "job" does my spouse most need me to do?
You then have to actually do that job. This will require sacrifice, but that sacrifice will deepen our commitment, and ultimately happiness.

The path to happiness is about finding someone who you want to make happy, someone whose happiness is worth devoting yourself to.
Part 3: Staying Out of Jail
Everybody thinks they have integrity, and nobody sets out to live a life without it.
The trap is that it is easy to make a small compromise, "just this once", in order to get an edge or get ahead. Once people start down this path, it is hard to turn back.
The marginal cost of doing something "just this once" always seems to be negligible, but the full cost will typically be much higher.

But looking back on it, I realize that resisting the temptation of "in this one extenuating circumstance, just this once, it's ok" has proved to be one of the most important decisions of my life. Why? Because life is just one unending stream of extenuating circumstances.

Decide what you stand for. And then stand for it all the time.
Finding Your Life's Purpose
The type of person you want to become – the purpose of your life – is too important to leave to chance.
You have to answer the question: who do I want to become?
This is worth investing in, because once we figure it out, we will apply it to aspects of our life every single day.

The only metrics that will truly matter to my life are the individuals whom I have been able to help, one by one, to become better people. When I have my final interview with God, our conversation will focus on the individuals whose self-esteem I was able to strengthen, whose faith I was able to reinforce, and whose discomfort I was able to assuage–a doer of good, regardless of what assignment I had. These are the metrics that matter in measuring my life.

If you take the time to figure out your purpose in life, you'll look back on it as the most important thing you have ever learned.